I was using my Maybelline Baby Lips SPF20 in Relieving Menthol this morning and I was surprised as the product seem to have hardened all of a sudden. Turns out, I reached the bottom of the tube already, and I still haven't made a review yet so here you have it!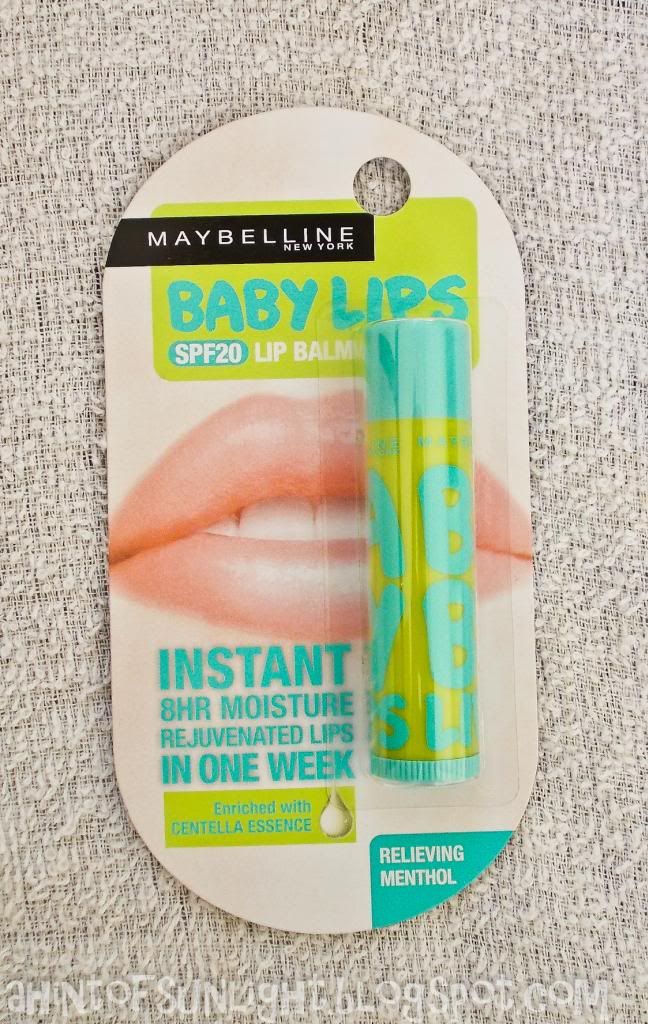 Maybelline Baby Lips SPF20 in Relieving Menthol
The name is catchy, which I like. It emphasizes its promise: soft baby lips for you. I got menthol because fruity smells on lipbalm make me gag sometimes. This also comes in three other variants: Anti-oxidant Berry, Smoothing Cherry and Energizing Orange.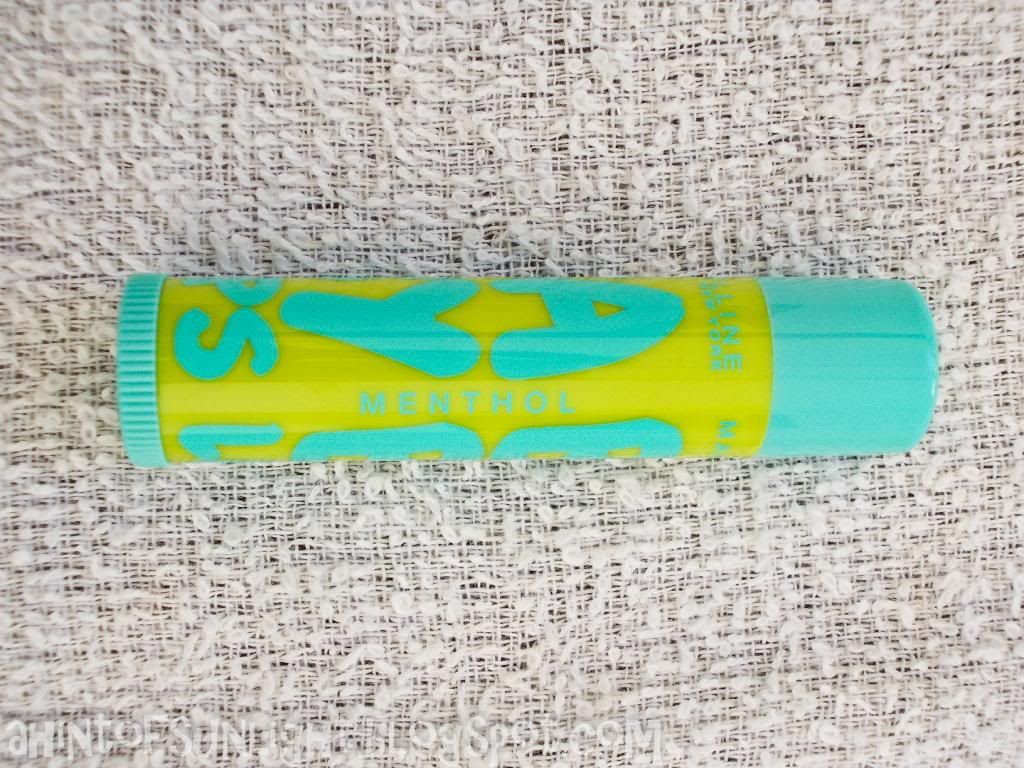 Maybelline Baby Lips SPF20 in Relieving Menthol
For P79($1.94), I got this regular-sized lipbalm. There's nothing special about the design, but I do love the fact that the print doesn't fade and the color combination actually works.
Also, you can see the manufacturing date at the bottom.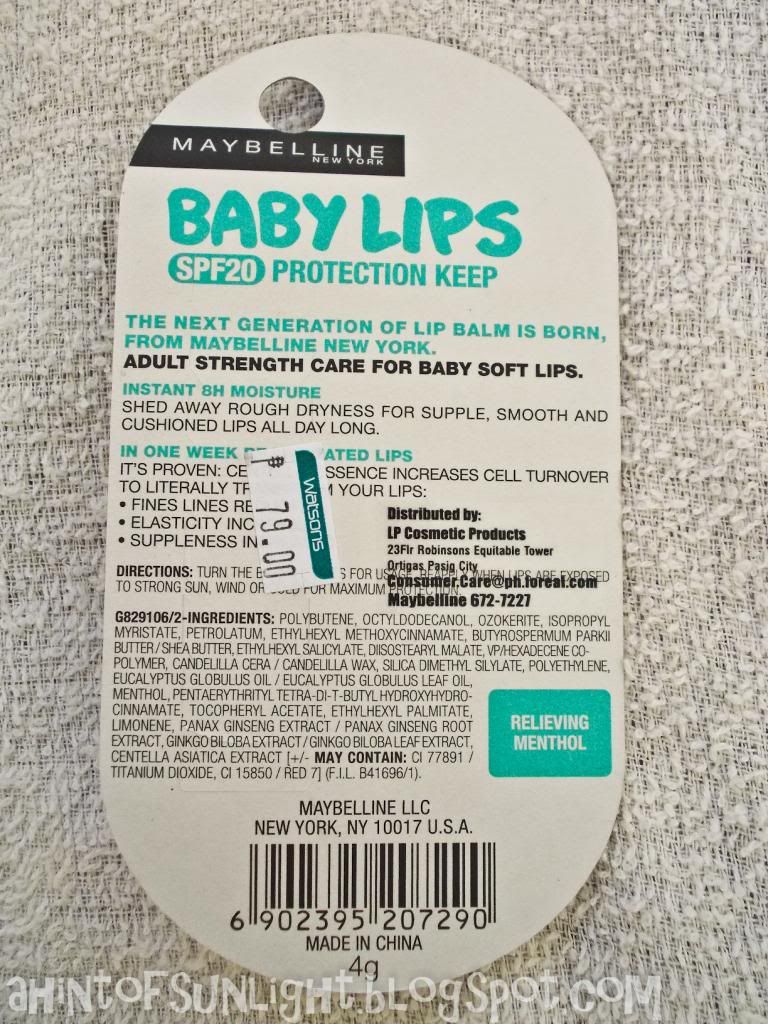 What the packaging say:
Adult strength care for baby soft lips.
Instant 8H Moisture-Shed away rough dryness for supple, smooth and cushioned lips all day long.
In one week rejuvenated lips:
fine lines reduced
elasticity increased
suppleness increased
So apparently, Centella Essence, an ingredient of this lipbalm, increases cell turnover to literally transform your lips.
Sounds like big claims? Makes you wonder if a P79 lipbalm can really do all that.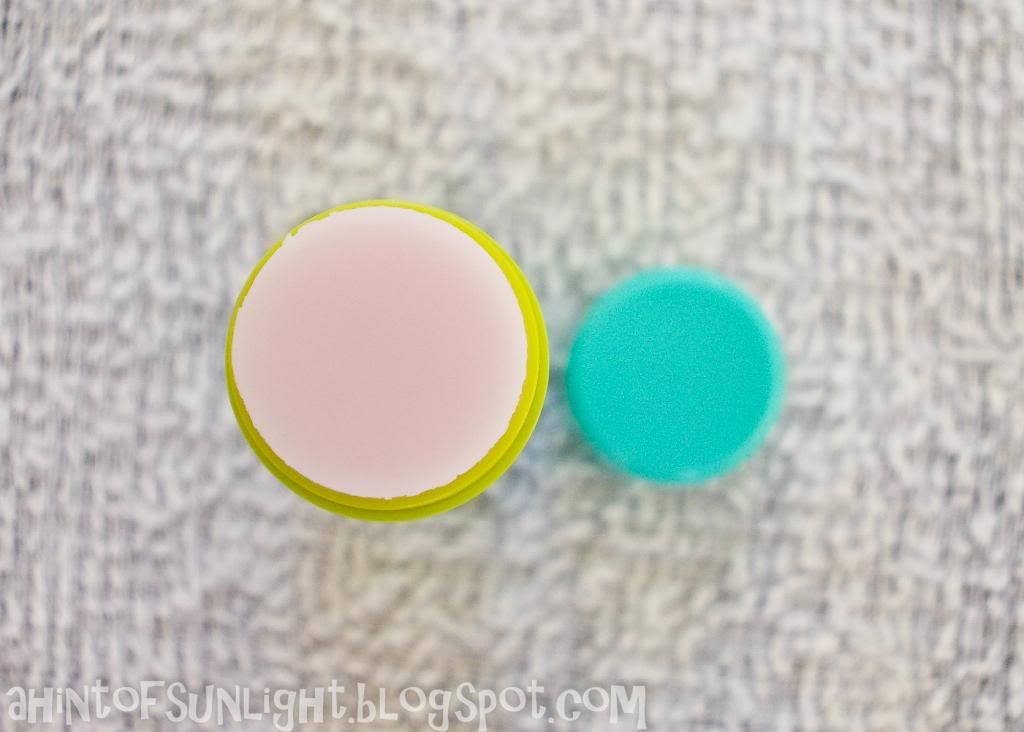 Smell:
Maybelline Baby Lips SPF20 in Relieving Menthol smells like a minty candy, or Vicks? It's a smell I like and you can't really smell it once its already on your lips.
Texture:
It's slightly slightly thick and waxy, but it doesn't bother me. In fact this is the sort of treatment that I need for my lips as its really dry and chappy. I love piling it up before going to bed. During daytime though, I only apply a thin layer. When I use lipstick, I usually apply a thick layer first, wait until the product is absorbed by my lips, then I wipe it off. I apply another thin layer before finally putting on lipstick.
Color:
As you can see, I don't have any lip-swatch, or any swatch at all. There's no point. This lip balm is clear and colorless.
True to its claim?
8hours moisture? - I don't think so. I have to reapply every two hours or so.
Rejuvanted lips in one week? - Hmm.. I did see improvements on my lips.
Fine lines reduced and elasticity increased - redundant claims actually and I didn't experience any of that.
suppleness increases - a little.
Shed away rough dryness for supple, smooth and cushioned lips all day long. - this, I actually experienced. At least, the shed away part.
My lips had been extra chappy before I started using this. I don't know if it's the weather or stress or too much coffee(I also neglected drinking enough water), but all other lip balm I got(also
Maybelline
,
Human Nature
and
Myra
) didn't work for me. Sometimes, my lips are sooo dry, it's like there's a layer of unbroken dead skin on the surface, it almost felt like plastic.
And it hurts
. When I finally used
Maybelline Baby Lips SPF20 in Relieving Menthol,
that layer of dead skin started shedding off and in just a few minutes, my lips are ok.
Likes:
Cheap
Easily Available: Watsons, SM dept store, even on groceries
Has SPF
I love mint
No strong smell
Love the packaging
Cap isn't loose
Keeps my lips from chapping - this I think is the most important one.
Dislikes:
Can be a little bit thick and waxy
Big claims that it doesn't really live up to.
Over-all rating:
4.5/5.0
For P79, you have to admit, it does a lot. The -.5 is because it just had to give promises that it can't keep.
Repurchase?
Yes!
Recommend?
Yes!
Final thoughts:
I always love trying different lipbalms, but I think I'll always keep one of these in my bag as its a product that actually works for me. How I wish I had this back in highschool and college.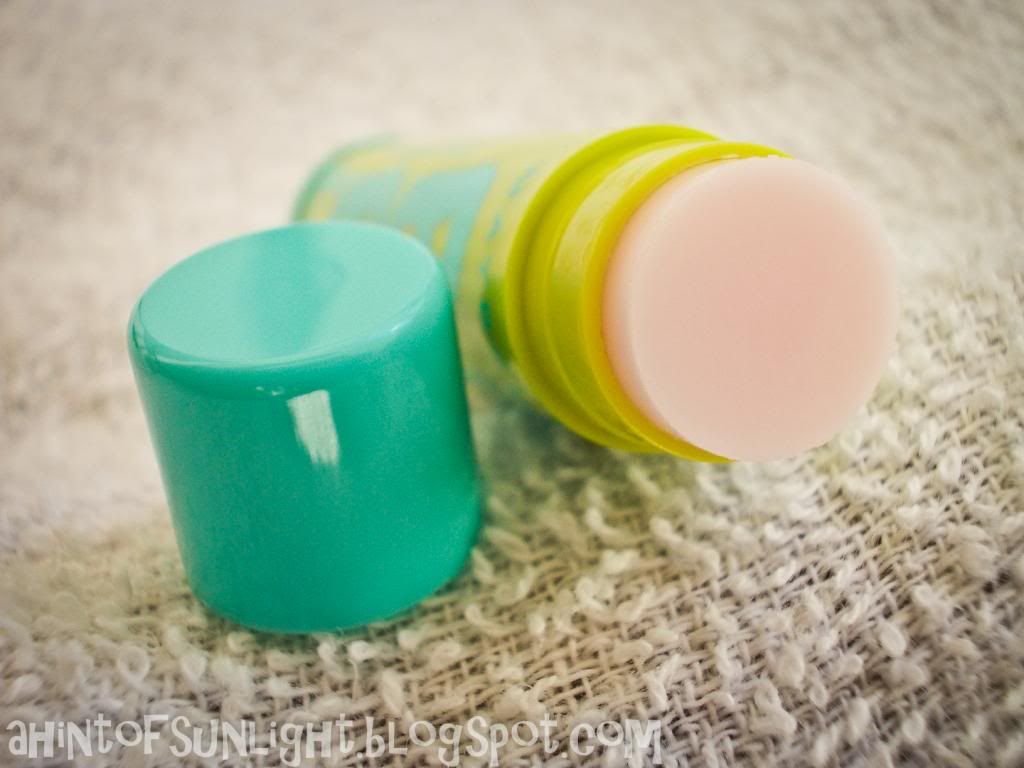 I believe a lot of us here has already tried this product. What is your experience with Maybelline Baby Lips?
Care to share it at the comments below?
Thanks for reading!